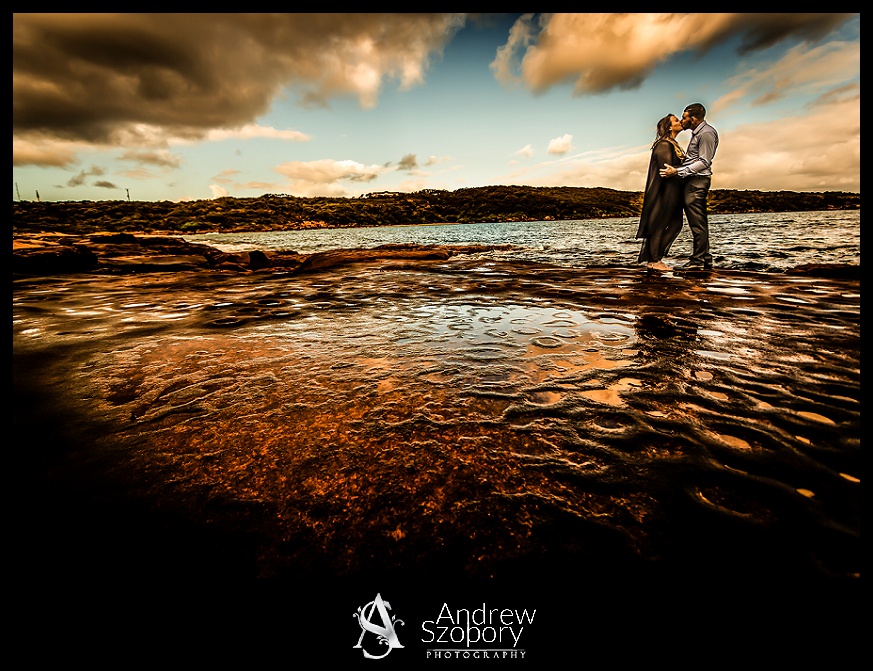 Nikki and Will are due to wed in November in Randwick and Sydney city and before the big day they wanted to have a record their last moments together as singles. They wanted a beachy feel to the photos rather than urban so we ventured down to La Perouse in Sydney's South on the way to the Sutherland Shire for an engagement photography session.
As a Sydney wedding Photographer I just love exploring new areas and getting some fresh inspiration from new locations. On the day it actually started bucketing down with rain half way through the session but I took this as a good sign. Why you might be thinking, it's because when it rains it can create some really cool reflections and texture of surfaces can change when light hits it.
So after the rain stopped we came out from under the tree that we were we waiting. We carefully jumped down some rocks dodging the blue bottles that had been washed as shore with the last high tide. I saw these little holes in a large rock where water was pooling and noticed this really cool reflection when I changed my camera angle lower and with the ultra wide angle lens I was using it made for such a pronominal photo.
The result in the top image which I absolutely love. Nikki and Will were an absolute pleasure to work with and I can't wait for their special day in Darling Harbor Cockle Bay.
La Perouse Engagement Session | Wedding photographers Sydney